Miniature Schnoodle
Charming. Affectionate. Intelligent.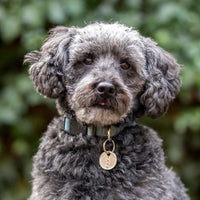 Cross between a Schnauzer and a Poodle
Friendly and happy in any home
Low shedding
Enjoy people
Alert and affectionate
Learn more
Happy & Loyal
Happy-go-lucky
Loyal best friend
Intelligent- keep your Schnoodle entertained and stimulated
Alert and affectionate
Entertaining
Family-friendly
Can be territorial
Alert & Expressive
Build:
Square body
Medium width head
Expressive ears
Dark brown eyes
Tails are straight and upright
Coat Type and Color:
Double coat
Bristly topcoat
Soft undercoat
Good for those with fur allergies
Chocolate
Salt and Pepper
White
Black
Parti (white coat with color patches)
Red
Size:
13-20lbs
12-15 inches tall
Medium Activity
Moderately active
Need daily exercise
Adaptable to all kinds of living as long as there is time and space to play
Mental exercise and stimulation is just as important as physical
We Recommend:
60 minutes of daily activity
7 miles of walking per week
This crossbreed between a Miniature Schnauzer and a Poodle have only become popular within the last 20 years.
The History of the Miniature Schnauzer:
Developed in the 1800's in Germany
Bred as a farm dog w/ a talent for ratting
Classified as a Terrier in America
After WW1, this pup became the third most popular breed in the US
Accepted by the American Kennel Club in 1926
The History of the Poodle:
Can be traced to Roman & Egyptian times
The French used the variety of poodle sizes for duck hunting, sniffing out truffles and small companions
Used in circuses because of how quickly they learned tricks
Was the most popular breed in America from the 1950's to the 90's
Grooming:
Brushed and combed every few days
Bathe regularly
Wipe face clean daily with a soft, damp cloth
Professional grooming every 4-6 weeks will keep your pup looking sharp
Check ears and nails regularly
Brush teeth multiple times per week
Training:
Intelligent and easy to train
Eager to learn and be challenged
Lack of consistent training and mental stimulation can lead to boredom and negative behaviors
These pups need boundaries and a leader
Train with patience, persistence and love