Teacup Yorkiepoo
Confident. Social. Playful.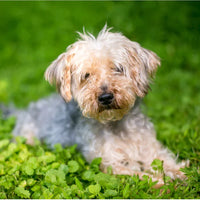 Hybrid, blending the Yorkshire Terrier with the Poodle
Confident and loving
Competitive and curious
Intelligent
Family-friendly
Ideal for those with fur allergies
Also called Yoodle, Yorkapoo, Yorkerpoo, Yorkiepoopoo, and Yorkiedoodle.
Learn more
Curious & Social
Love being active
Confident ( which can get them in trouble with bigger dogs)
Social personality
Lively and friendly
Charming & Silky
Build:
Friendly brown eyes
Short, blunt snout
Coat Type and Color:
Appearance depends on the genes of parents, some Yorki Poos look more like one parent over the other
Ideal for those with fur allergies
No undercoat
Silky, soft coat
Coats vary in length
Black
Brown
Cream
Multicolored
Size:
Medium Activity
Yorkie Poos are small but need high-intensity activity
Daily playtime needed for physical and mental wellbeing
Sufficient exercises can come from walking, playing indoor or outdoors or at the park
We Recommend:
30 minutes of daily activity
6 miles of walking per week
Yorkie Poos were bred to encompass best traits from the Yorkshire Terrier and the Poodle.
The History of the Yorkshire Terrier:
Originated in England
Bred for hunting rodents
Recognized by American Kennel Club in 1885
Popular for showmanship and affectionate personalities
The History of the Poodle:
Can be traced to Roman & Egyptian times
The French used the variety of poodle sizes for duck hunting, sniffing out truffles and small companions
Used in circuses because of how quickly they learned tricks
Was the most popular breed in America from the 1950's to the 90's
Grooming:
Not heavy shedders
Brush a few times per week
Visit professional groomer regularly
Trim nails as necessary
Brush teeth a few times per week
Training:
Quick learners
Early training and socialization is recommended
Intelligent and follow directions well
Respond well to positive reinforcement