Teacup Yorkiechon
Curious. Sweet. Energetic.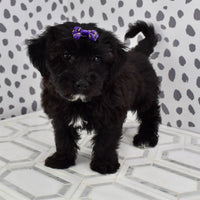 Cross between the Bichon Frise and the Yorkshire Terrier.

Loving and loyal companion

Alert, smart and curious

Fond of people, children and pets

Adaptable

Known for high-pitched barking
Learn more
Independent & Curious
Curious and eager to explore
Love spending time with their people
Soft and sweet nature
Family-friendly
Great companions
Compact & Proportionate
Build:
Toy sized
Round heads
Ears that stand up or hang
Blunt muzzle
Compact bodies
Coat Type and Color:
Can exhibit either parent breed's characteristics
Long and silky hair
Soft, dense, curly hair
White
Cream
Golden
Blue
Brown
Gray
Black
Medium Activity
Energetic with low exercise demands
High prey drive
Curious- give them space to explore safely
We Recommend:
2-3 short daily walks
Daily mental challenges with toys, training and games to help them stay happy and out of trouble
This breed developed in the United States around 2000. Yorkie Chons are a mix between the Bichon Frise and the Yorkshire Terrier.
The History of the Bichon Frise:
Originated in the Mediterranean
Intelligence and charm made them great royal companions
Performers in circus shows and street acts
Breed introduced to United States in 1956
The History of the Yorkshire Terrier:
Originated in England
Bred for hunting rodents
Recognized by American Kennel Club in 1885
Popular for showmanship and affectionate personalities
Grooming:
High shed rate
Brush 3 times per week
Bathe when necessary
Check and clean ears regularly
Trim nails as necessary
Brush teeth a few times per week
Training:
Early training and socialization is recommended
Intelligent- consistent training and upkeep will help your dog be happy and well behaved
Address excessive barking with early training
Have patience, and use praise