Teacup Teddy bear
Sociable. Gentle. Loving.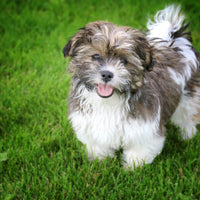 Cross between a Bichon Frise and a Shih Tzu
Named for teddy bear like appearance
Cute and charming
Cheeful and friendly
Gentle and calm
Allergy friendly
Also called Shichon, Zuchon, Shichon-Teddy Bear, Tzu Frise, BichonTzu, Rag Doll, and Shih-Chon.
Learn more
Attached & Lively
Intelligent
Devoted
Playful and attention seeking
Friendly with children, other dogs and other pets
Sensitive
Snuggly
Small & Cute
Build:
Named for teddy bear look
Round head
Furry, floppy ears
Brown or hazel eyes
Flat, wide muzzles
Strong legs and paws
Coat Type and Color:
Long flowy fur
Curly or silky
Low shedding
White
Black
Gray
Rd
Fawn
Cream
Brown
Combinations like black and white
Size:
Low Activity
Enjoy daily playtime
Short walks are enough for daily activity
Teddy Bears love to swim
Well suited for apartment living
Toys and other mentally stimulating activities are important for mental wellbeing
We Recommend:
30 minutes of daily activity
6 miles of walking per week
Challenge their intellect daily
Teddy Bears are a combination of the Bichon Frise and the Shih Tzu. They were first bred in the 1990's.
The History of the Shih Tzu:
One of the oldest breeds
Favored by Chinese royals and can be traced back to the Tang dynasty- 618-907
During the Chinese Revolution, this breed was almost eradicated
Recognized by the American Kennel Club in 1938
The History of the Bichon Frise:
Originated in the Mediterranean
Intelligence and charm made them great royal companions
Performers in circus shows and street acts
Breed introduced to United States in 1956
Grooming:
Comb daily to prevent tangles and mats
Bathe and trim every 3 months
Trim around eyes if needed in between cuts
Clip nails as necessary
Keep ears clean
Brush teeth 3 times per week
Training:
Easy to train
Eager to please and devoted to you, so use positive reinforcement and a gentle tone
Continue to keep them mentally stimulated for optimal behavior and health