Miniature newfypoo
Gentle. Protective. Energetic.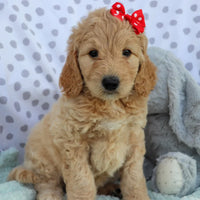 Cross between a Newfoundland and a Toy Poodle
Known for high intelligence and protective nature
High energy
Outgoing and playful
Also called a Newdle, Newfydoodle, Newfydoo, Newfoundlandpoo, Newfoundlandoodle, or Poofoundland,
Learn more
Friendly & Smart
Friendly and playful
Protective by nature
Gentle and affectionate
Open to meeting new dogs and people
Smart and need mental stimulation
Broad & Fluffy
Build:
Wide head
Long drop ears or triangular ears
Oval, small to medium shaped eyes
Straight, broad muzzle
Coat:
Dense
Curly
Single or double layer
Medium Activity
Active but not hyperactive
Moderate exercise is enough to keep your pup happy & healthy
Walking, jogging and swimming
Talented in tracking, truffle hunting, and water sports of all kinds
We Recommend:
60 minutes of daily activity
12 miles of walking per week
A cross between a Newfoundland and a Poodle and was created within the last 20 years.
The History of the Newfoundland:
Bred as a working dog and companion to Newfoundland fishermen
Retrieved ropes and nets of fish
Rescuing shipwreck survivors
Gained popularity because of their intimidating size and good nature
The History of Poodles
Can be traced to Roman & Egyptian times
The French used the variety of poodle sizes for duck hunting, sniffing out truffles and small companions
Used in circuses because of how quickly they learned tricks
Was the most popular breed in America from the 1950's to the 90's
Grooming:
Bathe once every two to three months
Brush coat daily
Regular trimming/clipping required
Check ears daily to keep them clean and dry
Health:
Breed is prone to bloat- a life threatening disorder
Serve pup smaller meals per day
Use a specialized food bowl to help slow speed of eating
Training:
Intelligent and quick to learn
Athletic and like to be put to work
Early training is recommended for best behavior
Continue to challenge your Newfypoo to keep them mentally sharp