Miniature Goldendoodle
Affectionate. Attentive. Intelligent.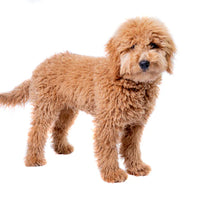 Cross between a miniature or toy Poodle and a Golden Retriever
Mild, family-friendly dog
Cute, affectionate and gentle
Smart and silly
Ideal for folks who suffer from pet allergies
Learn more
Smart & Silly
Ideal family pet
Loving and loyal
Great playmates for kids
Easy to train
Cheery disposition
Friendly with other dogs and pets
Eager and excitable
Cute & Expressive
Build:
Well proportioned
Agile legs
Round heads
Floppy ears
Large and expressive eyes
Long and fluffy or feathered tails
Coat Type and Color:
Wavy to curtly hair
No undercoat
Black
Copper
White
Cream
Golden
Apricot
Red
Medium Activity
Need daily walks to expend energy
Need socialization with dogs and peopole
Goldendoodles like playing at the park or swimming in water
Explorers by nature
We Recommend:
60 mins of daily activity
8 miles of walking per week
The Miniature Goldendoodle came on the scene in the mid-1990's. They are a cross between a Poodle and a Golden Retriever, maintaining the best qualities from each.
The History of the Golden Retriever:
Developed in Scottland in the 19th century
Bred for retrieving waterfowl without damage
Bred for its attentive and loyal appearance
Recognized by the American Kennel Club in 1932
The History of Poodles:
Can be traced to Roman & Egyptian times
The French used the variety of poodle sizes for duck hunting, sniffing out truffles and small companions
Used in circuses because of how quickly they learned tricks
Was the most popular breed in America from the 1950's to the 90's
Grooming:
Brush two to three times a week to prevent matting
Have them professionally groomed every two to three months
Clip nails when necessary
Clean ears and brush teeth regularly
Training:
Intelligent and easy to train
Motivated by food and high-value treats
Keep instructions calm and positive
Keep your Mini Goldendoodle sharp by continuing to challenge with new tricks