Miniature Bernedoodle
Playful. Friendly. Intelligent.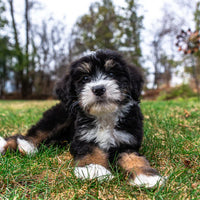 Cross between a Bernese Mountain Dog and Poodle
Playful and cuddly
Intelligent 
Family friendly
Go-with-the-flow
Learn more
Loyal & Affectionate
Can vary based on dominant genes
Playful
Affectionate
Intelligent and easy to train
Loyal and family friendly
Can be wary of strangers
Energetic
Sturdy & Intelligent
Build:
Round skull with flat cheekbones
Straight muzzle
Dar and oval eyes
Wide and thick ear leather
Varying tail length
Coat Type and Color:
Curly, dense and highly textured
Corded, hanging in tight even cords of varying length
Tricolor: black base w/ rust and white markings
Size:
Weight: 4-50lbs
Height: 10-21 inches tall
Medium Activity
Moderately active
Love daily walks
Tendency to wander and hunt
Playing fetch and other games
Thrives on human interaction
We Recommend:
60+ minutes of daily exercise
Help them use their intelligence by teaching them new tricks
The Bernedoodle is a hybrid that combines the Bernese Mountain Dog and the Poodle.
The History of Bernese Mountain Dogs
Developed in the Swiss farmlands
Working dogs
Herding dogs
Watch dogs
Bred for their temperament, obedience and tracking abilities
The History of Poodles:
Can be traced to Roman & Egyptian times
The French used the variety of poodle sizes for duck hunting, sniffing out truffles and small companions
Used in circuses because of how quickly they learned tricks
Was the most popular breed in America from the 1950's to the 90's
Grooming:
Brushing twice a week
Low seasonal shedding is to be expected
Trimming every few months
Only bathe when necessary
Regular nail, eye and ear care
Training
Early training recommended
Important to train them properly as puppies
Skills practice throughout their life
They are intelligent and energetic, training them will help keep them happy and obedient