Teacup Maltipoo
Lively. Cuddly. Intelligent.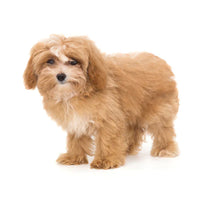 Small and loving companion
Intelligent and lively
Gentle
Family-friendly
Ideal for those with allergies
Also called Malti-Doodle, Malt-A-Doodle, Maltidoodle, Maltedoodle, Malt-oodle, Malt-A-Poo, Malta-Poo, Malta Poo, Malti-Poodle, Malte-Poo, Maltepoo, Maltesepoo, Maltese-Poodle, Maltesedoodle, and Moodle.
Learn more
Feisty & Cuddly
Energetic
Alert
Loving
Family companions
Early socialization can help them be comfortable with small kids and other animals
Friendly w/ strangers but will bark at unfamiliar folks
Small & Cute
Build:
Small
Mid-length floppy ears
Dark or blue eyes
Square shaped body
Hooked or curled tail
Coat Type and Color:
Medium to long hair
Wavy to curly
Wool-like texture
No undercoat
Ideal for those with allergies
White
Cream
Apricot
Cafe-au-lait
Brown
Blue Gray
Black
Silver
Size:
High Activity
Energetic
Love the outdoors and going for walks
They like to expend energy at the dog park or backyard
Mental stimulation is as important as their physical exercise
Enjoy agility exercises
Adaptable to any home environment
We Recommend:
40minutes of daily activity
5 miles of walking per week
A mixed breed that crosses the Maltese and Toy Poodle. It was created for companionship, although date is unknown.
The History of the Maltese:
Originated in Malta near Mediterranean Sea
Ancient mix of a Bichon and a Spaniel
Called many names throughout the years
Used to comfort the sick
Have remained a companion throughout the years
Often the subject of literature and art
Arrived in the United States in the 1700's
The History of Poodles:
Can be traced to Roman & Egyptian times
The French used the variety of poodle sizes for duck hunting, sniffing out truffles and small companions
Used in circuses because of how quickly they learned tricks
Was the most popular breed in America from the 1950's to the 90's
Grooming:
Not high maintenance
Brush weekly
Check and clean ears weekly
Wipe eyes with a damp cloth
Brush teeth a few times per week
Trim nails monthly
Training:
Intelligent and sensitive
Easily trained with praise and positive reinforcement
Maintain gentle and positive tone
Early socialization and obedience training will help your pup get along well with others
Keep working on skills and challenges as they need regular mental stimulation