Teacup Havanese
Happy. Devoted. Intelligent.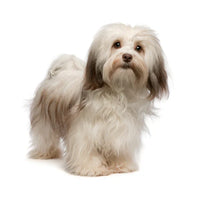 Affectionate family dog

Happy disposition

Intelligent and spirited

Easily trained
Also called Havana Silk Dog, White Cuban, Havana Spaniel, Spanish Silk Poodle, Bichon Havanais, and Bichon Habanero
Learn more
Smart & Fun-Loving
Affectionate and devoted to their family
Happy and fun-loving disposition
Playful
Can be shy, early socialization is recommended
Can be mischevious when left alone for too long
Spritely & Silky
Coat Type & Colors
Long, silky double-layered coat
Light outer coat
White
Brown
Gold
Blue
Silver
Black
Fawn
Combinations such as- brindle, sable, tri color, Irish pied, parti, piebald, black and white and belton.
Medium Activity
Playful
Prefer being indoors
Thrive in warmer climates
We Recommend:
60 minutes of daily activity
7 miles of walking per week
Originated in the Mediterranean
Brought to Cuba in the 1700's
Developed from two now-extinct breeds
Brought to the United States in the late 1950's during the Cuban Revolution
In 197, the Havanese Club of America formed with just 9 members
Grooming:
Brush and bathe weekly if you plan to keep Havanese coat long
Short coats should be cut every six to eight weeks
Coat naturally cords and can be trained to do so
Trim nails monthly
Brush teeth a couple times per week
Training:
Intelligent pups are easy to train
Can be slow to housebreak
Use patience and positive reinforcement