Forever Puppy
Smart. Cute. Loving.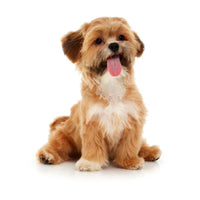 Cross between a Poodle, Cavachon, Cavapoo, Bichon Frise, Cockapoo, and Shih Tzu
Bred for their good health, disposition and allergy-friendly coats
Maintain a young looking face
Family friendly dogs
Intelligent and eager to learn
Learn more
Sweet & Intelligent
People-oriented
Affectionate
Playful
Intelligent
Family friendly
Unique & Small
Coat Type and Color:
Wavy
Curly
Very curly
Colors vary based on parents
Size:
Longevity:
Medium Activity
Daily light exercise
Forever Puppies love to play fetch and go for walks
Tucker out quickly
Adapt well to homes of any size, but need time and space to play
This breed is the newest and latest in the decades long search for a dog that holds all the best qualities.
The History of the Bichon Frise:
Originated in the Mediterranean
Intelligence and charm made them great royal companions
Performers in circus shows and street acts
Breed introduced to United States in 1956
The History of Cavalier King Charles Spaniel:
Loved for gentle nature
Adored by King Charles II in the late 1600's
This pup came to North America in 1952
The History of the Shih Tzu:
One of the oldest breeds
Favored by Chinese royals and can be traced back to the Tang dynasty- 618-907
During the Chinese Revolution, this breed was almost eradicated
Recognized by the American Kennel Club in 1938
The History of the Cocker Spaniel
"Spaynels" are mentioned in 14th century writings
Bred as hunting dogs
Recognized by the American Kennel Club in the 1800's
Popular breeds in both America and the UK
The History of Poodles
Can be traced to Roman & Egyptian times
The French used the variety of poodle sizes for duck hunting, sniffing out truffles and small companions
Used in circuses because of how quickly they learned tricks
Was the most popular breed in America from the 1950's to the 90's
Grooming:
Little to no shedding
Brush daily
Bathe once every two weeks
Clean ears, mouth and paws regularly
Training:
People oriented and eager to please make these pups relatively easy to train
They enjoy learning new tricks and games
We recommend early training