Cavachon
Spunky. Family-Friendly. Loving.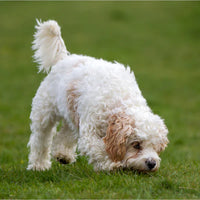 Cross between a Bichon Frise and a Cavalier King Charles Spaniel
Full of fun
Interacts with other pets and children
Great indoor pets
Ideal pups for those with allergies
Learn more
Friendly & Fun
Friendly
Ideal for families with children and for the elderly
Barky when they hear noises
Greets guests and strangers happily
Fluffy & Cute
Coat Type:
Fluffy
Medium length fur
Wavy and dense coat
Coat Colors:
Black
White
Apricot
Blenheim (chestnut and white)
Tri-Color (black, white and tan)
Ruby
Size:
15-25lbs
12-13 inches tall
Medium Activity
Moderate exercise needed
Big yard not required as they do well in small dwellings
They love to play
Can be snuggly and love naps
Love games and stimulating activities
We Recommend:
40 minutes of daily activity
Interacive games and chances to socialize with other pups
Cross between Bichon Frise and Cavalier King Charles Spaniel
Unclear about the exact timeframe Cavachons were discovered
Gained popularity during the late 1990's and early 2000's.
The History of Bichon Frise:
Originated in the Mediterranean
Intelligence and charm made them great royal companions
Performers in circus shows and street acts
Breed introduced to United States in 1956
The History of Cavalier King Charles Spaniel
Loved for gentle nature
Adored by King Charles II in the late 1600's
This pup came to North America in 1952
Grooming:
No undercoat
Good for those with fur allergies
Minimal shedding which can be maintained with regular brushing
Prone to skin irritation, we recommend only bathing with necessary with a vet recommended shampoo
Check ears weekly for dirt or burrs
Training:
Easy to train
Responds best to positive reinforcement