Teacup Bichpoo
Friendly. Loyal. Smart.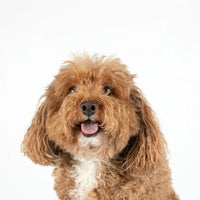 Cross between the Bichon Frise and Miniature Poodle
Smart and energetic
Adaptable
Family friendly
Small
Minimal shedding
Also called Poochon, Bichdoodle, Bichoodle, Bichonpoo, Bichpoo, and Bichondoodle
Learn more
Charming & Intelligent
Intelligent
Easy to housebreak and train
Loyal
Family friendly
Affectionate
Eager to please
Small and Fluffy
As this is a crossbreed, there will be variations in appearance.
Build:
Round head
Short and round muzzle
Dark or amber oval eyes
Coat Type and Color:
Loose, medium-length curly fur
Coarse coat
Tan
Brown
White
Black
Black and white
Tan and white
Size:
Medium Activity
Exercise is good for their health and behavior
Mental stimulation is also important
Hiking, walking and play dates with other pups
Bich-Poo's are prone to obesity, exercise is very important
We Recommend:
30 minutes of daily activity
8 miles of walking per week
This modern breed hasn't been around that long, but its parent breeds have a long documented history.
The History of Bichon Frise
Originated in the Mediterranean
Intelligence and charm made them great royal companions
Performers in circus shows and street acts
Breed introduced to United States in 1956
The History of Poodles
Can be traced to Roman & Egyptian times
The French used the variety of poodle sizes for duck hunting, sniffing out truffles and small companions
Used in circuses because of how quickly they learned tricks
Was the most popular breed in America from the 1950's to the 90's
Grooming:
Avoid matting and knots by brushing twice a week
Bathe as necessary
Keep ears clean as they are prone to ear infections.
Trim nails once or twice per month
Training:
Early training is recommended
Intelligent pups are eager to please
Does best with positive reinforcement